"Ideas are the easy part - execution is everything!"
BIKE2BER is a unique project in Germany, that brings together cycling, aviation and tourism.
The central element of the BIKE2BER project are freely accessible and safe cycle routes for commuters and leisure cyclists to and around the airport.
In particular, employees and tourists should be given the opportunity to get to the airport safely by bicycle. In addition, the BIKE2BER project also aims to show ways and possibilities of how cycling and aviation can harmonise in intermodal traffic networks in the Berlin Brandenburg Airport Region. The future cargoBIKE2BER.de project is intended to show initial solutions for how, for example, the "Gatelands" business park and the terminals of BER can be approached alternatively by employees. The fLotte-Brandenburg (free cargo bikes) is to play a central role in this.
In 2020, the sister project Flughafen-erfahren was founded. With guided bike tours and hikes, tourists, local residents and students from the region are to get an insight into the airport region. The tours are independent of the Airport Company (FBB) and also focus on topics related to regional development and the nature around the airport. "Flughafen-erfahren" also means: to understand the airport!
The BIKE2BER project is intended to show the management of the Airport Company and the politicians of the federal states of Berlin and Brandenburg that an development of the cycling infrastructure to and around BER is urgently needed. The connection between the bicycle and the airport will play an important role in the future to counteract climate change and overloaded traffic systems. Furthermore, such a project gives the Airport Company a chance to further raise the acceptance of the airport.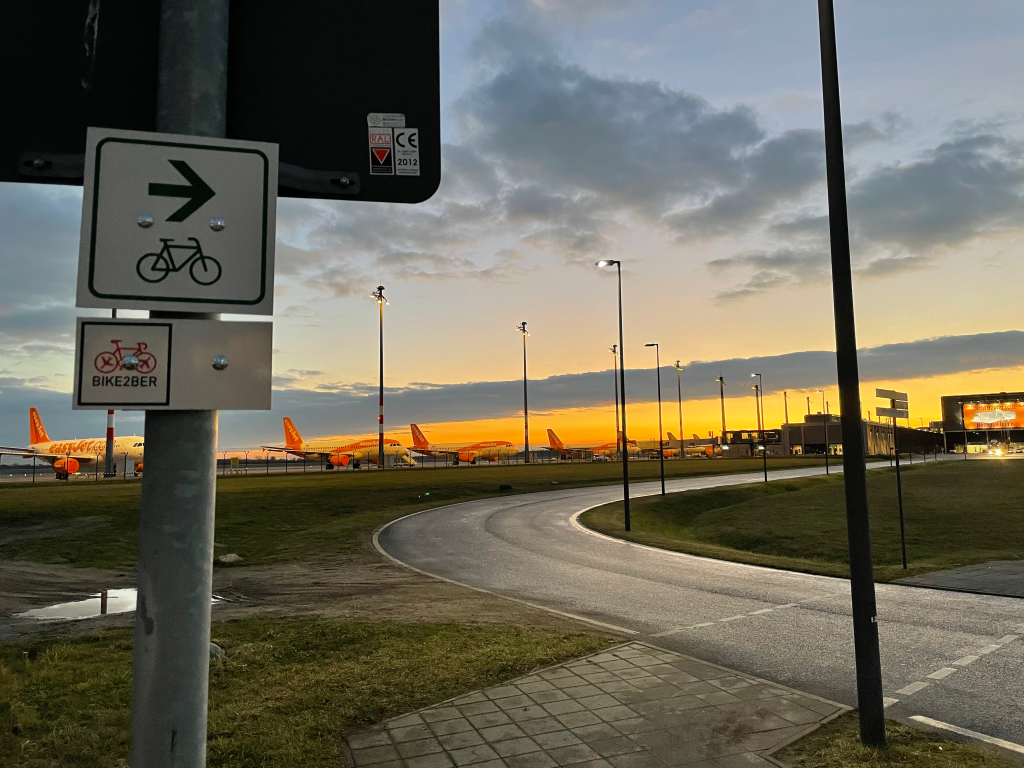 The Berlin Brandenburg Airport Region does not have a fully developed network of cycle paths. The Bike2BER routes were designed by cyclists – for cyclists – and tested hundreds of times. They will be regularly updated. The routes are approved by the district of Dahme Spreewald as well as known by the Airport Company and are partly signposted with the "BIKE2BER" logo.
Thanks to the support of the Airport Company (FBB) Berlin Brandenburg, the municipality of Schoenefeld, the Schoenefeld "Dialog Forum", the Office for District Development in Königs Wusterhausen, the Technical University of Wildau and Tourismus Marketing Brandenburg GmbH, a strong network has been established in the airport region of Berlin Brandenburg after four years of BIKE2BER.de project work.
In the future, even more routes shall be signposted and more districts shall be included in the BIKE2BER network. The Flughafen-erfahren Tour was separated from the BIKEBER project in 2022 in order to preserve the scientific character of BIKE2BER.
Have fun cycling to/around the airport,
Marius
BIKE2BER